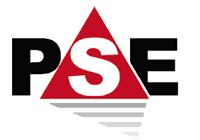 Home
About PSE
Technical Articles
Arc Flash and
Fault Studies
Power Quality
Forensic Investigation
Reliability Analysis
Safety Survey
Product Certification
and Testing
Client Testimonials
Contact PSE
Expertise in Electrical Engineering
Contact PSE
We thank you for your interest and would appreciate hearing from you. There are several ways to contact us. Be assured that whichever means you use, we will respond to you promptly.

Office: (206) 265-1570
Engineering: (206) 306-6745
Fax: (253) 344 - 1769
Email: contact@power-sci.com

Power Science Engineering LLC
3458 S. 368th Place
Auburn, WA 98001-8814 USA

If you have a specific project request, complete the attached form and return to PSE. Click on the image to the right to download the PDF file, PSE Contact Form to your computer. Adobe® Reader® is required to open the file. Email the completed form to contact@power-sci.com for fastest service. The form can also be printed and faxed or mailed.
© Copyright 2008, Power Science Engineering LLC (All Rights Reserved)
www.power-sci.com | contact@power-sci.com