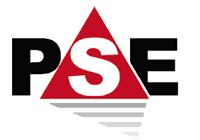 Home
About PSE
Technical Articles
Arc Flash and
Fault Studies
Power Quality
Forensic Investigation
Reliability Analysis
Safety Survey
Product Certification
and Testing
Client Testimonials
Contact PSE
Expertise in Electrical Engineering
Arc Flash and Fault Studies
Arc Flash Hazard Analysis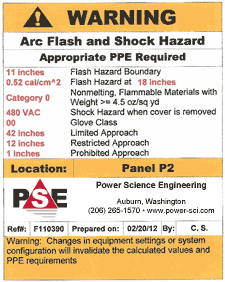 Injuries related to electricity can occur in two primary ways:

• Due to shock • Due to arc flash

Arc flash injury is due to extreme heat generated when an electrical device is subjected to an electrical fault, such as short circuits or ground faults. The National Electrical Code (NEC) 2005, Article 110.16 requires switchboards, panelboards, motor control centers, industrial control panels, etc. to be filed Marked to warn persons of potential arc flash hazards.

Standards such as NFPA70E and IEEE 1584 provide means to calculate the arc flash energy at a particular distance from the arc source. Depending on the distance of the person from the source of arc flash, the standards indicate the type of personal protective equipment (PPE) to prevent serious injury. Arc flash hazard analysis calculates the incident energy and the PPE requirements. Arc flash hazard labels of the type shown to the right provide the information needed by facility owners, operators, maintenance personnel, and others to be informed of the hazard potential and the PPE necessary to prevent serious injuries.

Contact PSE for comprehensive arc flash hazard analysis of your facility. Our professional engineers will perform the computer simulations and provide permanent labels with the required information for each location of the facility.
© Copyright 2008, Power Science Engineering LLC (All Rights Reserved)
www.power-sci.com | contact@power-sci.com